Born from the multinational response to the Fukushima nuclear radiation disaster, employing design and manufacturing expertise from around the globe, made in the USA by IMI, comes a revolutionary new radiation detector. It's called ONYX®.
ONYX features a modern, streamlined look and the use of advanced technologies, making it a one-of-a-kind pocket-sized Geiger Counter. It weighs only 7 oz. (200g) and measures a mere 5.1 X 2.6 X 0.9 in. (72 X 37 X 13 mm.), making it easy to transport.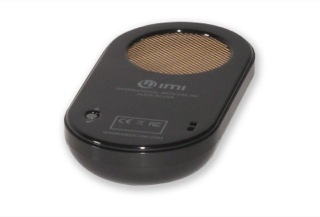 Despite its compact size, ONYX is capable of detecting Alpha, Beta and Gamma radiation with the same sensitivity as the IMI Inspector Alert™, and like the IMI Inspector Alert™ V2, ONYX is optimized for surface contamination measurements through use of its 2 in. pancake Geiger Mueller tube. See photo at right of the back of the Onyx featuring the screened, mica end window of the large GM tube.
The ONYX has a six button touch sensitive keypad that allows for easy use of a wide variety of functions such as graphic display of data, adjustment of audio chirp, data logging, changing units of measurement and calibration.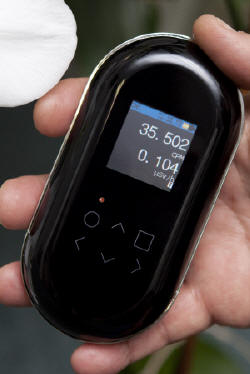 ONYX also permits the user to upgrade the software running on the device to the latest version using a simple Internet download feature. The version being shipped with the instrument is the most up to date. You will receive an email when new versions are available for download. ONYXLink software will be available for free download in the near future to support upgrades from OSX or Windows computers.
Data are easy to read in a variety of formats (milli-Roentgens per hour, counts per minute, micro-Sieverts per hour, and Total counts) on the 128 X 128 color OLED display that measures 1.88 in. (47.9mm.) diagonally.
In addition, ONYX is designed to share data by using its mini-USB port, with both the ONYXLink application and Mineralab's GeigerGraph and Radiation Network Windows software.
One can also use the stereo 3.5mm jack to communicate with the Safecast or Geiger bot iPhone App (available for free at the Apple App Store). Twitter data are transferred using QR code displayed on the OLED in combination with a smart phone with a QR Code scanner.
This item is in stock and will typically ship out within 1 business day.
Specifications for the Onyx:
Detector: Halogen-quenched Geiger-Mueller tube. Effective diameter 1.75″ (45 mm). Mica window density 1.5-2.0 mg/cm²; Detects Alpha, Beta, Gamma, and X-radiation
Display: 128×128 color OLED (Organic Light Emitting Diode)
Operating Range: µSv/hr: .000 to 1,000, mR/hr: .000 to 100, CPM: 0 to 350,000
Accuracy: ± 10% typical; ±15% maximum
Alert Range: 0 to 99,999 CPM; Beeper sounds the alert when warning level feature is activated.
Anti-Saturation: Readout holds at full scale in fields up to 100 times the maximum reading.
Audio: Beeper chirps with each count when Geiger Beep function is activated
Averaging: Accumulate/Average feature builds average over time when activated
Certifications: CE Certified: Emissions: EN 55011:2009 + A1:2010 (Class B emissions limits); EN 61000-4-2:1995 (ESD); EN61000-4-3:1997. RoHS Compliant, Meets WEEE standards.
Count Light: Red LED flashes with each count
Calibration: Cesium-137 (gamma from daughter metastable Barium)
Gamma Sensitivity: 334 CPM per µSv/hr (3340 CPM per mR/hr) referenced to Cs-137
Efficiency: For 2 pi Geometry (typical Efficiencies, primary emissions noted)
Manual: ONYX Operation Manual
Options: USB cable, charger and carrying case available
Ports: Output: Stereo 3.5 mm jack sends pulses to Safecast iPhone application
Power: One 3.7 V Lithium-Ion battery
Size: 130 x 660 x 230 mm (5.1 x 2.6 x 0.9 inches)
Temperature Range: -20º to +50º C , -4º to +122º F
Timer: Can set sampling periods of 1 minute to 40 hours.
Weight: 200 grams (7 oz) including battery
IMI Onyx Personal Radiation Monitor Available Accessories: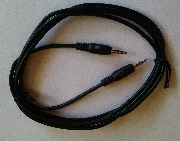 *Accessories may ship separately from our instruments
Please contact us for availability and pricing.


Operating Manuals for Onyx:
Onyx NX-10 is the best radiation dosimeter

When the Russian tanks started bombarding the largest nuclear power plant in Europe (Запорізька Атомна Електростанція) I bitterly remembered 26 April, 1986, and the fact that my totalitarian Bulgarian government didn't tell the people about the Chernobyl nuclear disaster at the time. (On May 1st, everybody was outside, marching the stupid International Workers' Day parade, and blissfully inhaling Caesium-137.) I said to myself: NOT AGAIN. That's why, buying the wonderful piece of technology Onyx NX-10, was a perfectly normal reaction for me. Pros and cons: ➕ The Onyx NX-10 is small enough to fit in your pocket, and has a very sleek design. ➕ The screen is very good, and well organized. After some tweaking you have at the same time displayed the current radiation levels in CPM and μSieverts/h units (remember, the safe levels are under 0.2 μSieverts/h). ➕ The battery life is enough for almost full day work nonstop, with the screen on (it dims). ➕ You feel nice about the fact that you are totally independent from the mainstream corporate media news. Reuters quite amusingly reported: "The nuclear authorities are concerned but not panicked." (Have you ever seen "PANICKED" authorities on the news?) ➖ There is an option to record the radiation levels at user-defined intervals, and it works, but there is no way to view the data log. (Please, correct me if I'm wrong. I spend hours digging into the menus with no success.) ➖ There is no (easy) way to connect the Onyx to a smart phone. If Onyx-NX10 is to be perfect, it has to connect to a smart phone and transfer the invisible data log.

A well packaged sensor. Easy to setup and interface to software applications.

Thanks for wonderful service, helped me out with payment from Hong Kong and excellent delivery from other side of the world. Quality product, made in America, does exactly as advertised. Very happy customer thanks so much.